In 1610 famed Italian astronomer Galileo Galilei discovered four of Jupiter's moons; Europa, Ganymede, Callisto, and Io. These four are now referred to as the Galilean moons and they are the four largest moons of Jupiter.
Io is the innermost moon and the second smallest of the Galilean moons. Io is to the moons what Venus is to the planets – a fiery hell-like world.
Io has over 400 active volcanoes, making it the most volcanic place in the solar system. This volcanic activity is caused by tidal heating from Jupiter's strong gravitational forces. Io's thin atmosphere is made up mostly of sulfur dioxide that is constantly spewed out of the volcanoes on the surface. When these volcanic eruptions take place, they cast out material up to 200km high, showering the landscape with sulfur and sulfur compounds. Io's surface is fascinating – it has Volcanoes, liquid lava lakes, and a frost that forms every 42 hours .
In terms of size, Io is just slightly smaller than our own moon, and about a quarter the diameter of Earth.
Like Io, Europa is slightly smaller than Earth's moon but that is where their similarities end. Europa is an ice moon, it's surface consisting of crisscrossed fractures in the ice shell. Of all the places in the solar system, except Earth, of course, Europa is the most likely candidate for extraterrestrial life. 15 to 25 kilometers beneath Europa's ice shell there is a salt water ocean and it is thought that this ocean may extend 80 to 170km deep into the moon's interior. This would mean Europa could house twice as much water as all the Oceans on Earth combined .
One particularly intriguing aspect of Europa is the orangey-brown staining around the ice fractures. These fractures are created by Jupiter's gravity forcing the moon to flex, cracking the ice. However, if there was a clean ocean underneath, we would expect to see a blueish tint on the fractures, not a reddish brown one. Some scientists believe the staining is caused by salt deposits and some scientists have speculated it may be the bi-products of life.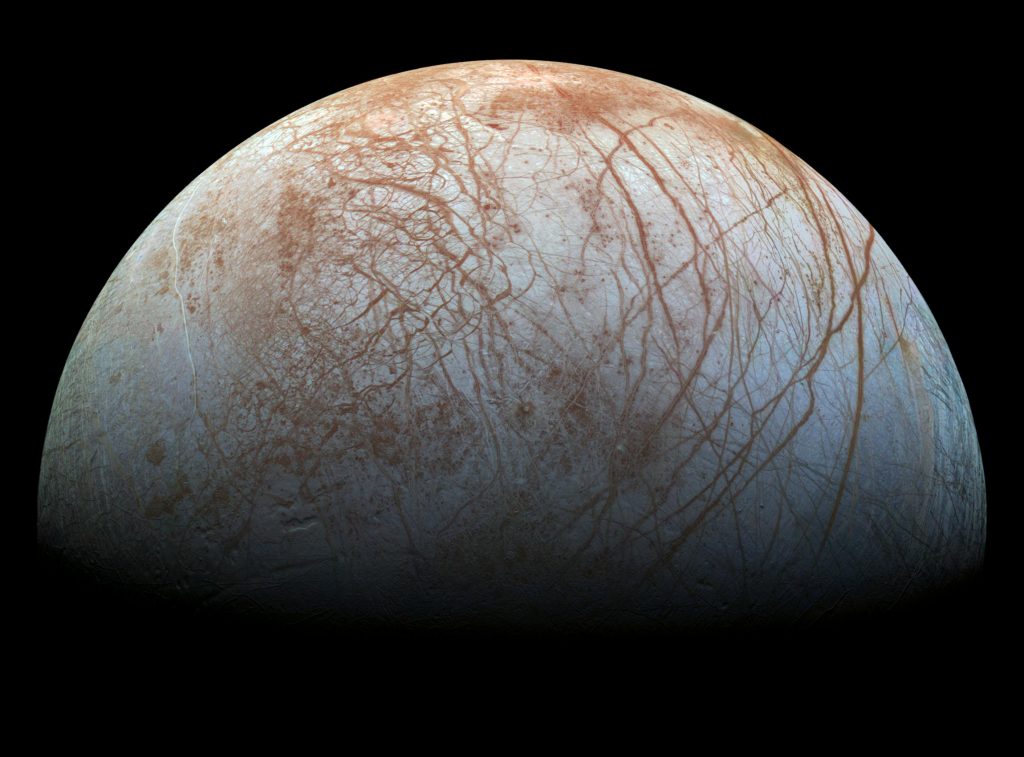 Ganymede is the largest of Jupiter's moons and also the largest moon in our solar system (it's actually larger than Mercury) . It is also the only moon with its own magnetic field, which is thought to originate from its liquid iron core . Essentially, if Ganymede was orbiting our sun instead of Jupiter, we would consider it large enough to be a planet. In terms of composition, Ganymede is roughly equal parts of water ice and rocky material. So Ganymede has water, but what about oxygen, the other building block for life? In 1996 Astronomers were able to determine through the Hubble Space Telescope that the moon does have a thin oxygen atmosphere. Don't get too excited though, it's thought this atmosphere is far too thin to sustain life.
Callisto is another larger moon that is approximately the same size as Mercury. Callisto is Jupiter's second largest moon, as well as the third largest moon in the solar system. The moon has an icy and rocky surface covered in deep craters of differing sizes – so much so that it is the most cratered world in our solar system. Having plenty of craters is a sign of an old surface and a lack of active geology. On Earth, we have plate tectonics that will bring new crust to the surface and swallow old crust into the mantle. This doesn't appear to be happening on Callisto .
Scientists believe that there may be a liquid water ocean beneath Callisto's surface, although how deep this ocean would be or where it begins is still a mystery. It is possible for life to exist on Callisto since Oxygen has been detected there and there is evidence of water, however, it isn't particularly likely.